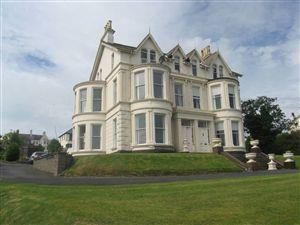 I never heard the screech of breaks because the driver didn't break. He simply hit my father and kept driving, the police in pursuit. It was April 1984 and I would turn 8 in May. My mother jumped out of the car with a cry of 'Oh, my God' and left my sister and I startled in the back seat. We were going home from the circus and Dad had just crossed the Cregagh Road to buy some headache tablets. The paramedics arrived quickly and announced that his neck was broken. In a little Baptist Church by the side of the road they were having a prayer meeting. They prayed that Dad would survive. Their prayer was answered in every way imaginable: when he arrived at the Royal Victoria Hospital in Belfast his neck was not broken, but his brain was injured. He would remain in a coma for the next six weeks, and he would never walk again.
That was the first time in my life that I lived in Augustaville, the family seat, home of my indomitable grandparents. Mum had to spend a lot of time at the hospital and it was thought by our elders that the sight of all the tubes coming out of Dad would be too frightening. Nanny used to take us for walks every day along the Bangor coastal path outside the house, and along the Eisenhower pier. We slept in the blue room, the old nursery of the Victorian house and the only room in it with a low ceiling. The windows came down to the floor and the wind rattled them. We were afraid to be left alone up there so we used to make Nanny read us stories for hours. Above the bed hung an imposing portrait of Papa and Nanny used to say there was no reason to be scared because Papa was in the house. Thirty years later the blue room is pink: I moved all the furniture away from the window at the age of 23 when the room became mine and put the same portrait of Papa in my room when the house became mine. I was 27 by then.
Dad came out of his coma not remembering that he was an adult and being very confused by the concept of my sister and I. He had lost his balance, was unable to walk and needed constant care for around five years. We moved back to Belfast to our haunted house (another story) which was now unsuitable for our needs so Papa bought us a house in Knock in Belfast and he and Nanny were at that house every single day while we were at school. Papa used to wash and shave Dad. Nanny and Papa used to do the garden together. Nanny cleaned. I remember stripping paint with Papa. They were in their 70s then, and they were young in their 70s. Nanny would live to 87 and Papa to nearly 91. Anything that needed fixed was attended to by my great uncle Jim, a former Japanese prisoner of war, Lancashireman, lover of opera and along with our beloved Aunta Myrtle, Nanny's sister, attender of school concerts, birthday parties and hospital bedsides. What amazing people they all were. They tried so hard to make life normal for us, and instead they made it exceptional.
Dad started making a remarkable recovery in terms of his cognitive skills. He had been a social worker and particularly gifted counsellor, working with trans sexual people and people with personality disorders and many other groups that others did not want to work with at the time. Having both been social workers, my parents were horrified by the lack of services for people with acquired brain injuries, and although his energy levels were low and the pain constant Dad decided to rectify this by starting such services. He founded and ran an organisation called Jigsaw Northern Ireland and reached people who had been isolated for years. My family no longer supports or in any way endorses this organisation, but in my father's day it helped people. In 2002 he received the MBE for services to disabled people. We never saw that coming in 1984. The Assistant Chief Medical Officer in the Department of Health, Social Services and Public Safety once described Dad to me as 'one of Northern Ireland's most important citizens'. Dad thought of himself as Homer Simpson. I will tell two stories that describe him well: firstly, one day Dad was having a rant to me in the kitchen because one of his clients who had lost the ability to speak because of a stroke had been declared as non disabled by the DSS and would lose his benefits. Dad had gone straight to the man's MP and was doing his best to change the ridiculous bureaucracy which led to this situation. He was afraid of the impact on the man's family. In the middle of this Mum came in and asked Dad, 'How was lunch with Prince Edward?' to which Dad replied 'Just a lot of standing around, same as usual' then continued talking about his client.
This is the second story. I hope you will remember it so you are never part of a similar story: my sister was working with Dad so he saw her more than me and decided he needed to start taking me to lunch more often. Dad liked to talk to me about English etymology, politics and literature, especially Tom Sharpe and Orwell. We got to the top of the queue to order coffee and the waiter asked 'will he take a small or a regular coffee?' to me. A man who reads Orwell, speaks fluent Arabic, has an MBE and three degrees can decide what size of coffee he wants himself. And when you put that man in a wheelchair, he can still order coffee. I don't know how he coped with it, I really don't. When I ended up having to use a wheelchair for a while I just used to lose it with cretins. Dad didn't hold people's ignorance against them, he didn't regard that as the best way to challenge it. Of the friends who disappeared after his accident, his ideological opponents who described him as 'a bleeding heart liberal who would give every penny social services had to homeless drunks' and to those who were jealous of his success or threatened by his intellect he had only one thought, a phrase first spoken by Marcus Aurelius (Dad was very good at Latin), 'the greatest revenge is not to be like them'. Of the man who hit him whilst driving drunk plunging him into pain and depression, forcing my sister and I to grow up aged 6 and 7, forcing Papa to be unable to retire until the age of 75, leaving Mum to care for a disabled spouse and small children, a man who stood up in court five years later (he had been driving without insurance which is why it took so long to come to court) and said he was not sorry for hitting my Dad or for the other person he had hit, no mention was made at all. He had changed the direction of our lives one night in 1984 but now it is 2014 and why should he continue to have power by provoking bitterness? He got a 6 month suspended sentence. It must have been galling. Papa was not best pleased but didn't rant about it. Bitterness would have taken away the Dad's power to lead the extraordinary life he lived; he had become a committed Christian and followed this, the most difficult of the teaching of Christ. Only fools look down on such a mind set as lacking reason; it restored a future to a whole family who in 1984 thought their hopes had died.
Dad died in 2005 at the age of 59. I miss him every day, and yet he is with me every day. It is an irony of life that when we are young we are embarrassed by our parents but when we know a bit more about the world we find ourselves asking what would our parents do nearly every day.
I am typing this in Papa's house by the sea, which today is grey and cloudy. Where once there was a portrait of Papa in the blue room, now there is a picture of him in every room in the house and in a lot of the hallways and stairways, too. Papa was made a Paul Harris Fellow by Rotary International for his services to humanity. I would tell you what those were but he wouldn't want me to. I was once at a Rotary dinner where someone made a speech about what he did for others. It put him in a bad mood for a week and we had to live with his cantankerousness. It is enough to say that many people's lives would be much the worse off if he had not helped them, mine in particular. He was our father, really. Not that Dad wasn't; it just so happened that the way things happened we needed two, and we had two. I miss walking across the kitchen in the morning to have my posterior slapped with a newspaper and hear the words 'you are awful, but I like you'.  I miss Papa teaching me songs and the sound of his contented singing in the garden, or the sight of my name written in cherry blossom petals across the lawn. Here is a story which describes Papa: we had had a drainage system put on our land and the neighbours were having problems with sewerage running down their garden. Papa called in an engineer and made sure it wasn't coming from our house, but yet the neighbour continued to turn up at the door ranting. One day she arrived red faced on the doorstep, announcing that she would be putting bore holes in our garden. Papa replied that if that was our sewerage, he was glad it was time for his daily laxatives. Then he closed the door. The Council announced later that week that the sewerage was coming from an empty house three doors down.
I will never forget the day Mum and I drove to Bangor from Belfast in the morning, and when I got up the first flight of stairs I heard a doctor saying 'It would have been very peaceful'. I ran out the gate and down to the sea. The world had gone crazy: to say Papa wasn't there anymore was like saying the sun would never shine again. But the sun does shine, on some days more than others, and Papa is never gone. That is what happens when you live your life for other people, you end up being inextricable from those lives.
Nanny had died in 1999 after a horrible few years of living with Alzheimer's. The horrors of the treatment she received are a story in themselves, but now that she and Papa are together they are probably fighting away contentedly, which is what they liked to do.
Mum is alive and well with grandchildren all around her. After being a carer for so many years caring is what makes her happy. She loves Made in Chelsea and travelling. She likes to overfeed people, too, and adopt people. My sister has a little boy and a little girl, the boy being named after Papa and Dad and the girl being named after Mum.
And I have my music, my disintegrating mansion and my memories. I remember 1984 but I don't live there anymore.