Back to the Old Country
More than a hundred years ago, my great-grandmother left Donegal (Rosapenna, Carraig Airt direction to be precise) in search of adventure in the Big Smoke of Belfast. She ended up with eight children in the end…. This weekend I went back to the North of Donegal after a ten year absence from that land of my ancestors with Andy and Joanne Boal. Our aim? Play some music!
For the first time in months the sun was shining as we set out on our road trip. It was about a four hour drive, driven by Andy. For those of you reading this not from these parts, Donegal is Ireland's most northern county but it is not part of the entity that is Northern Ireland; it's in the Republic so you have to change currency from pounds sterling to Euros. We didn't, but although the place retains a kind of ancient Celtic mystique it still has card readers in every pub so we were set. I used to keep Euros in the car for paying tolls if I went to Dublin, but my young nephew put one in my CD player which cost £60 to fix. The joys of modern Irish life!
Anyway, I had a teensy bit of trepidation going back to Donegal. My mother and aunt had been there a while back and met a relative of ours (usually all the extended clan knows you've passed Derry and by the time you get to Letterkenny people are saying things like 'you're Leslie Lucas' fourth cousin twice removed. Heard you stopped for a sandwich at Ramelton Road' etc. etc.). This particular relative gave my aunt and mother a peacock feather, which being ignorant County Down types they failed to recognise as a curse. When they got it home, my grandmother went hysterical and said the feather would have to be cast. Mum put it in the bin. This incensed my grandmother, who was scandalised none of us knew how to cast something (to exorcise it).  Later I studied at Corsham Court with Bath Spa University for a year and the grounds were full of peacocks, those servants of the banshee… they really are a curse, you know. Their cries will clash with whatever key you are recording in and even worse they come up to you and steal your sandwiches right out of your hand if you're having lunch al fresco. But I digress.
Despite its otherworldly appearance and ancient superstitions, Donegal is a very earthy place. The song Homes of Donegal made famous by Paul Brady includes the line 'you hearts are like your mountains/ in the homes of Donegal.' The mountains look like this:
Phenomenal Gigs and Familiar Voices
Having arrived at Bunbeg and settled in at Bunbeg House, home of the best cooked breakfast ever, we headed to Leo's Tavern in Meenaleck for dinner and for a night of fantastic music. I had just scoffed 6 rather large bits of garlic bread with goat's cheese and sundried tomatoes when Moya Brennan walked into the bar with Tim Jarvis. Now, it's not an unlikely place to see Maire since her father owns the place and the sign outside says 'Leo's Tavern: Home of Enya and Clannad'. The walls were decorated with signs of their successes. We had dined under Enya's platinum disk for Shepherd Moons, an album which was a big part of my youth. Its famously blue album cover was on the wall along with the original photo in Technicolor… greens, browns etc. I had never seen that image in anything other than blue… anyway, extreme nerves hit until we chatted to both Maire and Tim and discovered that they are both really lovely and committed to finding new local talent and encouraging the young musicians of the ear to play and write.
I couldn't believe the standard of some of the performers we heard, some still teenagers but writing with maturity and individuality. I met another Eve which hardly ever happens… Eve Martin. Look out for her; she's an acoustic singer-songwriter and she is just great!
Since I had just finished my MMus in Songwriting, Maire asked me to say something about the craft before I sang. I couldn't believe it because just over a year ago my tutor at Bath Spa had asked in class if I could write for anyone who would it be, and I had said Maire Brennan… and here I was on a stage with Maire Brennan. The atmosphere was lovely though so I felt I could talk about songwriting infront of legends and not be embarrassed. Then we performed Oblivion and Between the Lines. It was the first time I had ever sung Oblivion live. It's quite difficult in that it has some octave intervals in it and the phrasing is quite atypical, but it seemed to go down well thankfully. Maire and Tim were nice about my writing which might just be the high point if my life.
Maire had opened and Jacquie Sharkey and the Henry Sisters were also on the bill so when we got back to Bunbeg House we'd had a pretty good night.
Sing for Your Lunch
The next day, still inspired to be musical, Jo and Andy took me to the famous Singing Pub near my ancestral home of Carraig Airt for lunch. In Irish is called sibin ceoil (pronounced shebeen key-ol). Ceoil means music. I am sure I don't need to tell you what a shebeen is. The barman announced that if it was your first visit you could not order without singing. I hummed a few bars of 'Suddenly' by Angry Anderson since we'd been listening to 80s soft rock in the car (Andy's music!!!). After that it was ok to have a prawn baguette, some crisps and 7Up Free.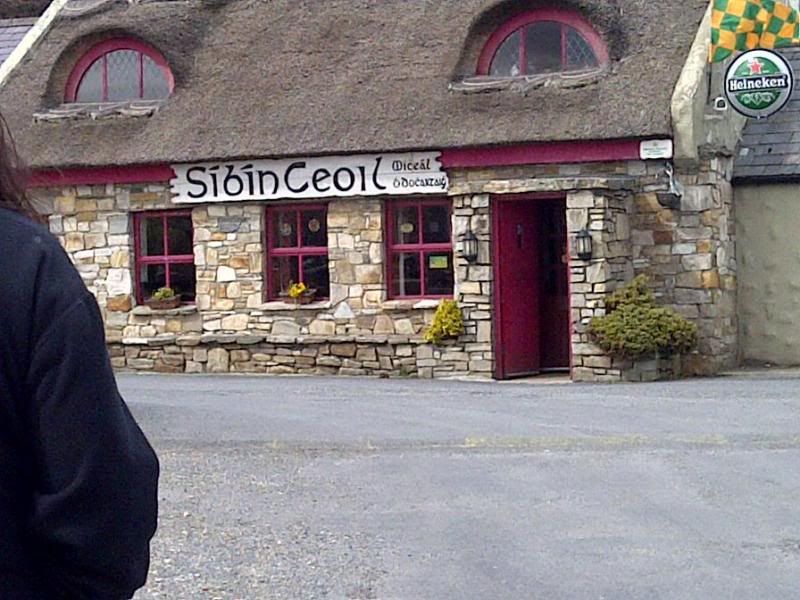 The drive through Donegal is beautiful. These photos don't do it justice. It is so full of open spaces. No wonder it has produced some of Ireland's best music and musicians; it has a sense of freedom about it, although my great-grandmother obviously didn't feel that 110 years ago when she headed for Belfast. She was a poet; she wrote one lovely poem when her beloved sister died. Perhaps I will set some of it to music one day. That's what happens when you go to Meenaleck and meet Maire Brennan. You come home inspired.